MAZDA MOST RELIABLE BRAND OF 2020

You may just now be realizing that Mazda seems to come up quite a bit lately at the top of many expert automotive review lists. Mazda still continues to innovate with top-rated vehicles in reliability and safety. One of the latest gems Mazda can add to its crown comes from Consumer Reports. Based on its portfolio for 2020, Mazda is ranked as the most reliable brand of the year. If it's been some time since you last gave a second thought to what Mazda brings to the plate, it may be time to reconsider. The 2020 lineup may impress you just as much as it has with Consumer Reports.
As part of the Consumer Reports 2020 vehicle evaluation, the experts generated a brand report card in several categories. Mazda, as previously mentioned, earns the spot as the most reliable of all brands. The best brand overall is Porsche, while the best overall mainstream brand award goes to Subaru. The Mazda's manufacturer track record just keeps getting better.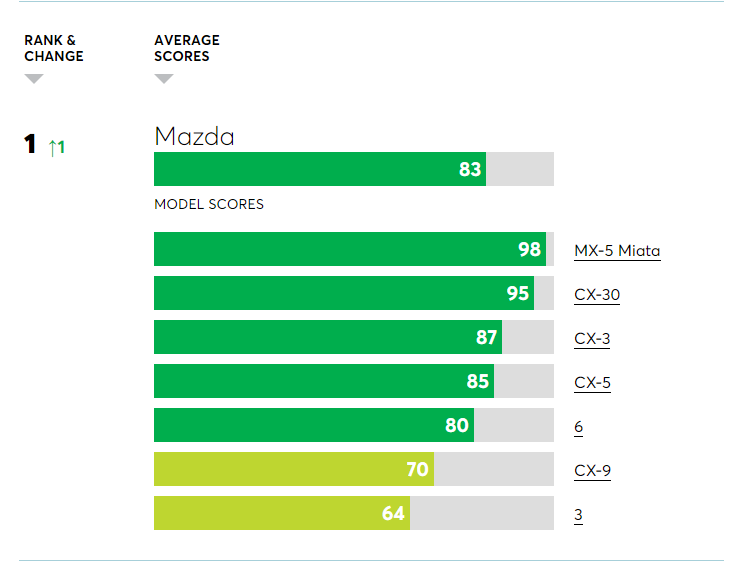 WHAT IT MEANS TO BE THE BEST IN PREDICTED RELIABILITY
To name the most reliable brand of all automakers, Consumer Reports compiles scores based on a variety of evaluations. There are four critical factors that contribute to a brand's overall score, which include a vehicle's performance in a road test, owner satisfaction survey results, safety ratings, and overall reliability.
The road test puts two models from each brand through 50 paces. The CR customer surveys add to the scores for those models that owners agreed to recommend or would buy again. Safety evaluations include crash testing results along with the availability of advanced safety features.
Reliability is scored based on the ownership experiences and satisfaction reports for 17 key trouble areas. To be the most reliable brand overall means overachieving in each of these areas with more than one vehicle.