Grab The New
2023 Mazda CX-50
At Jake Sweeney Mazda Tri-County in Cincinnati, Ohio
EMPOWERING THE SEARCH
The captivating beauty of nature is further enhanced when you understand that your road trip will be an incomparable journey. With Mazda's advanced driving technology, every minute spent in the driver seat of a Mazda CX-50 feels like it's own adventure; whether you are navigating rough roads or smooth highways ahead.
MAZDA INTELLIGENT DRIVE TECHNOLOGY
With Mazda's innovative Intelligent Drive Select (Mi-Drive) system, you can rest assured that your car will provide a smooth and responsive ride no matter what kind of terrain or weather you're driving in. Mi-Drive optimizes traction and reaction times to give drivers an effortless, intuitive connection with the road—guaranteeing efficiency from start to finish.
DRIVE MODES
NORMAL MODE
An impeccable balance of power and fuel economy.
SPORT MODE
Enjoy an exhilarating, dynamic driving experience with maximum responsiveness prioritized.
OFF-ROAD MODE
Optimizing braking and engine torque for the ultimate grip.
AVAILABLE TOWING MODE
This vehicle provides a steady, comfortable ride even when towing heavy loads. Fitted with substantial bottom-end torque, it boasts an impressive capacity of up to 3,500 pounds - so you can haul whatever you need without breaking a sweat! To make sure your experience is as smooth and effortless as possible however, be sure to use Genuine Mazda Accessories Trailer Hitch and Harness for maximum performance.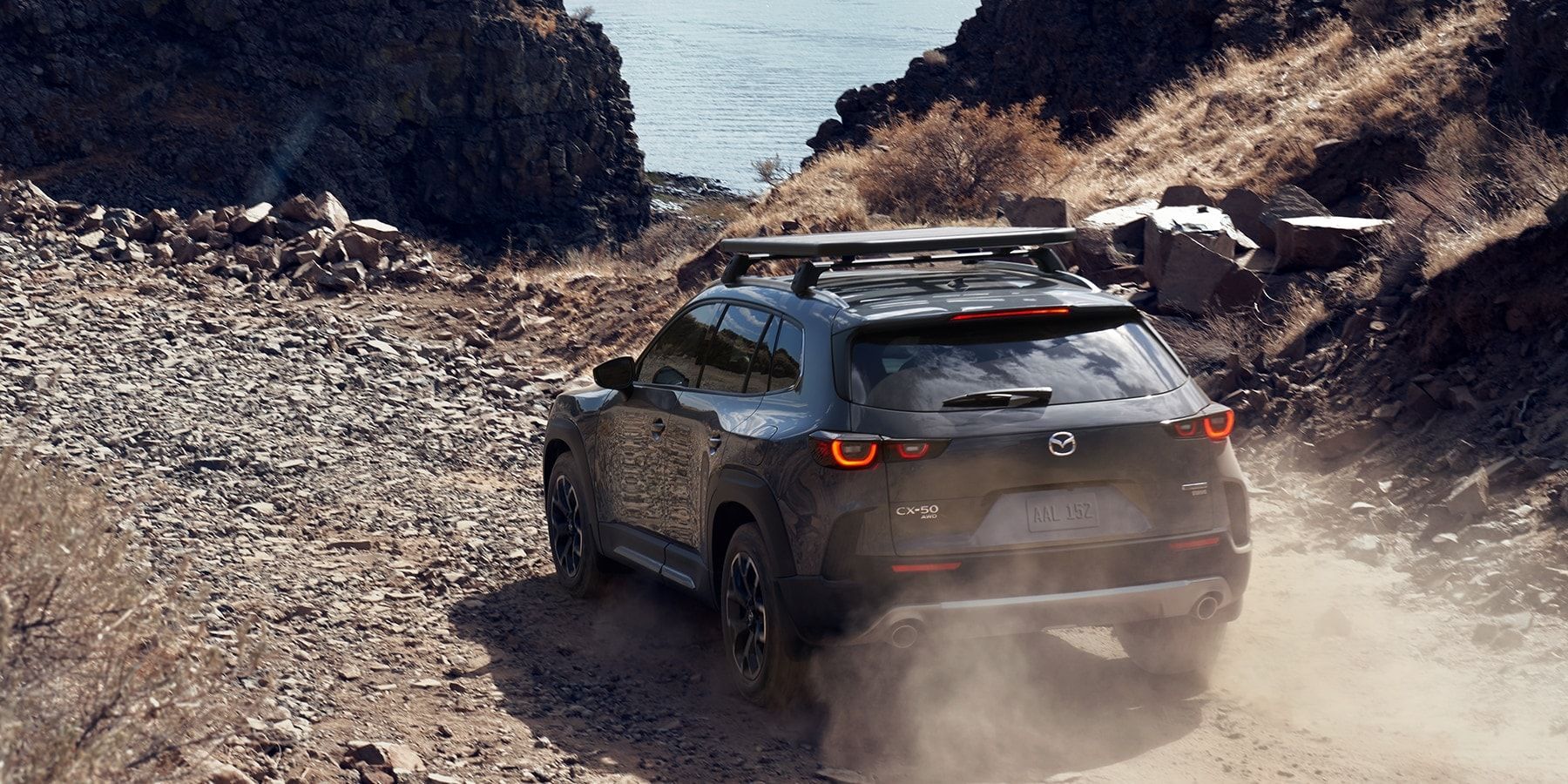 i-ACTIV AWD®
With i-ACTIV AWD® All-Wheel Drive, you'll be able to take your driving experience up a notch - even in the most extreme conditions! The system has been designed to enhance control and performance on all roads so that you can have an unparalleled level of confidence wherever you go. No matter where life takes you, rest assured that each journey will be smooth sailing with this revolutionary technology.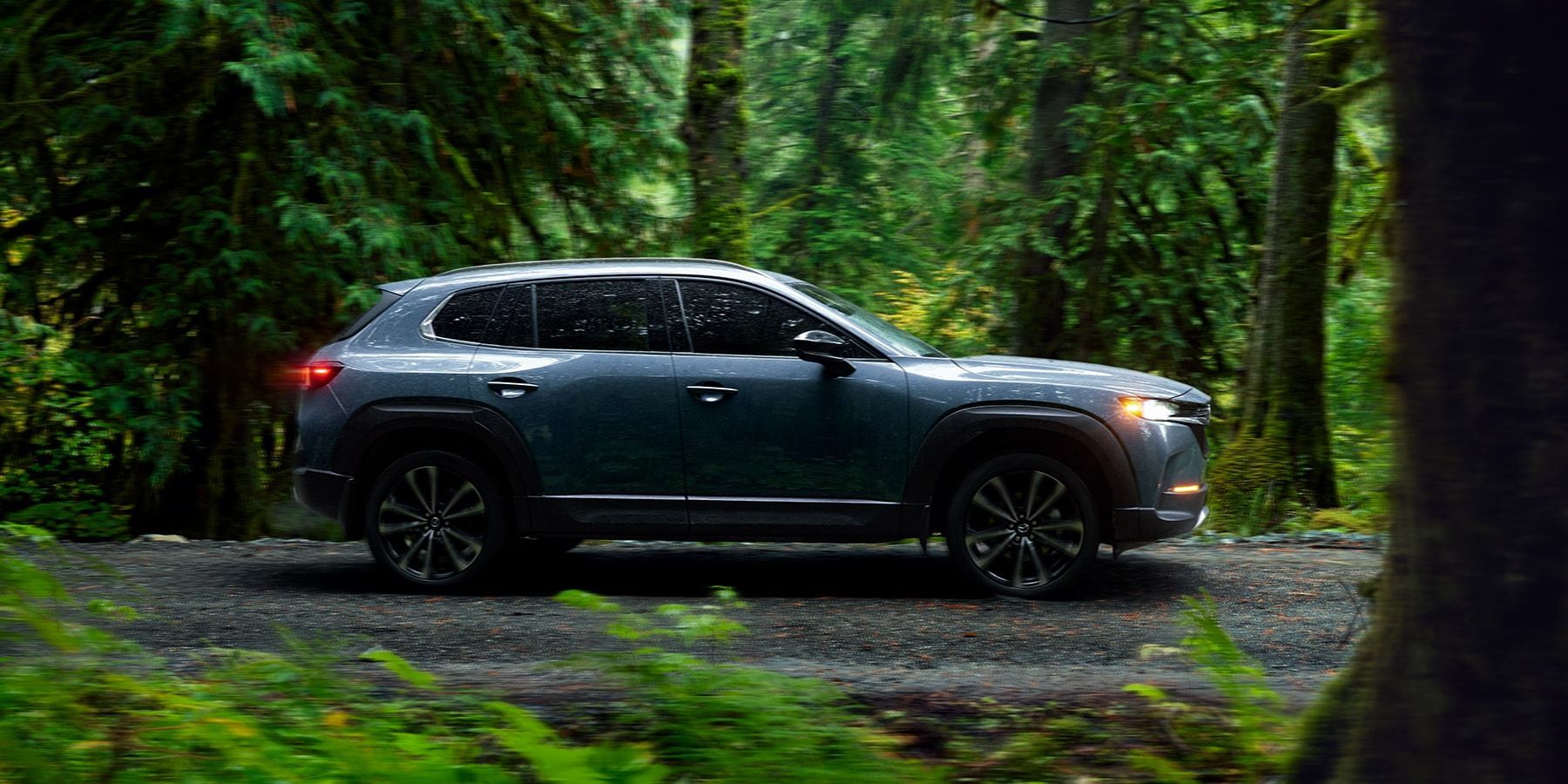 Turbo
We all carry inside of us a natural yearning for discovery. The Mazda CX-50 invites you to indulge that curiosity, feeding your senses with its turbocharged engine that produces up to 256 horsepower and 320 pound-feet of torque so wherever life takes you, something new is always just over the horizon.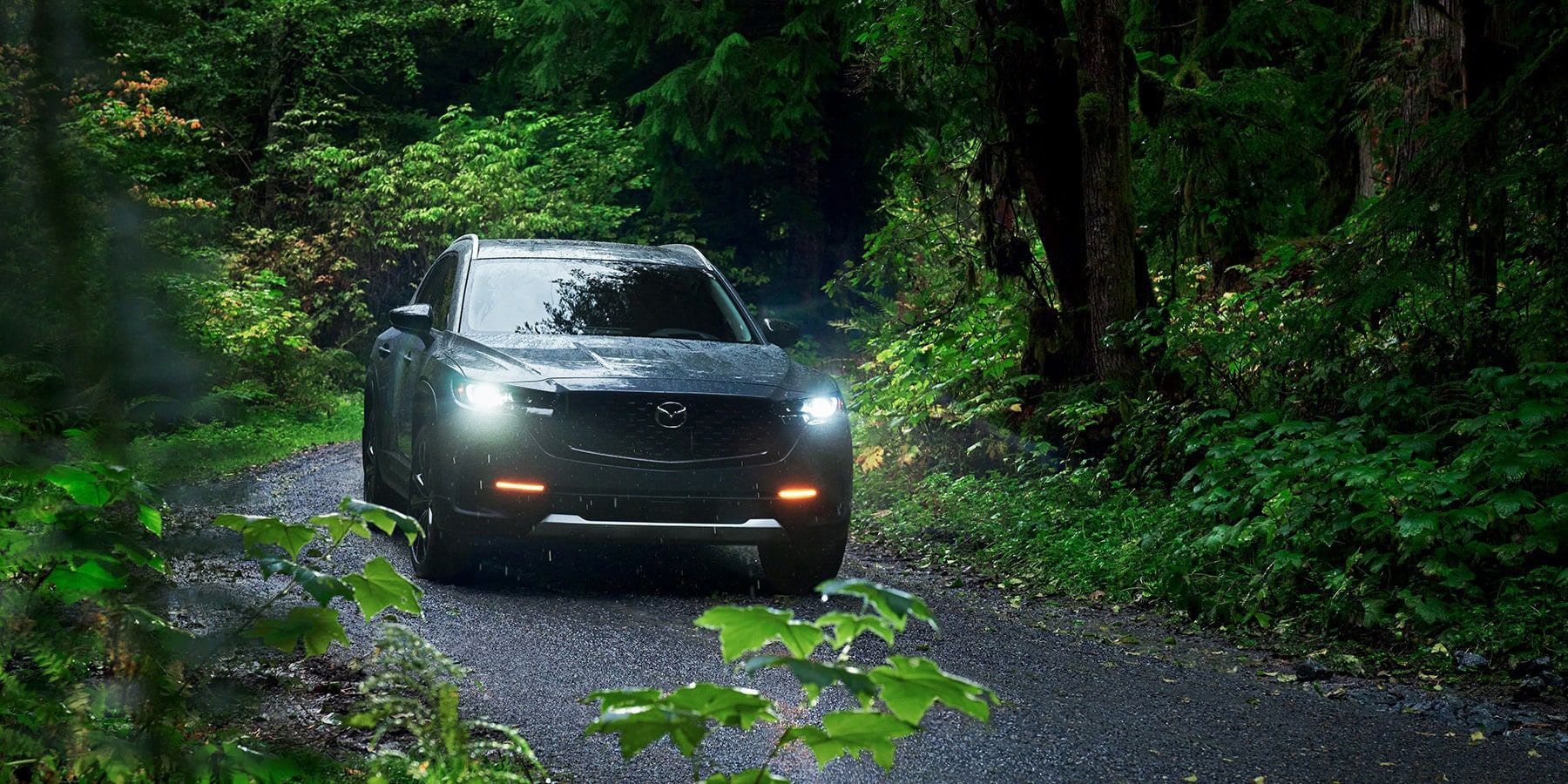 G-Vectoring Control Plus
Our driving technology is equipped to assist you, not hinder your journey. G-Vectoring Control Plus notices the way that you steer and adjusts accordingly for enhanced stability on paved roads, offroad trips or when hauling heavy loads. Furthermore, our drive modes alongside all-wheel drive offer a comfortable ride no matter the terrain!
2023 MAZDA CX-50 DESIGN
DESIGNED TO CONNECT YOU WITH NATURE
Get ready for your journey with the Mazda CX-50! This stunning fusion of dynamism and robustness boasts intricate details that will draw you in.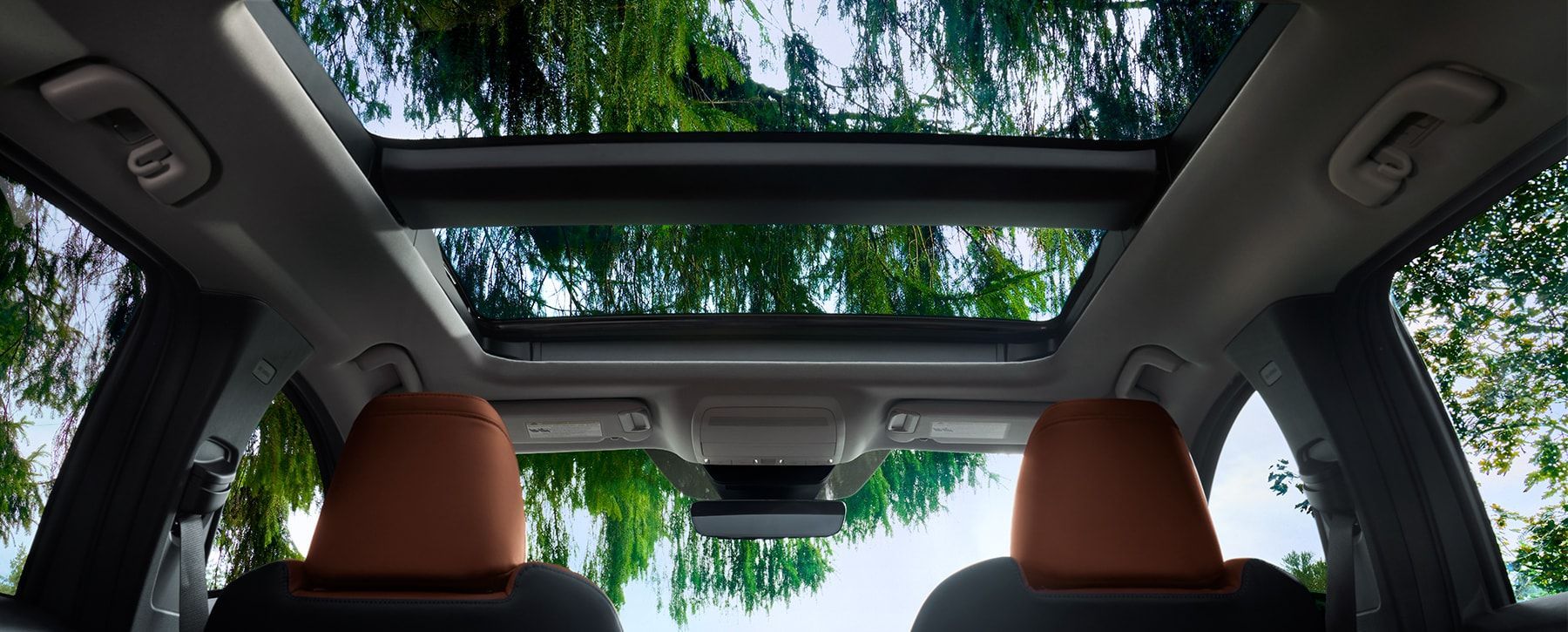 PANORAMIC MOONROOF
Step inside the Mazda CX-50 and experience a realm of captivating beauty with its Panoramic Moonroof - from glistening moonlit nights to lush green forest canopies. Enjoy those magical moments for longer by taking advantage of this extraordinary feature!
FORM AND FUNCTION IN AN IMPRESSIVE COLLABORATION
Step inside the Mazda CX-50 and you'll be welcomed into a world of luxurious comfort and resilience, designed to embrace the beauty of Mother Nature. This luxury automobile was designed to highlight nature's grandeur; allowing passengers to experience all that nature has to offer from the comfort of their own vehicle.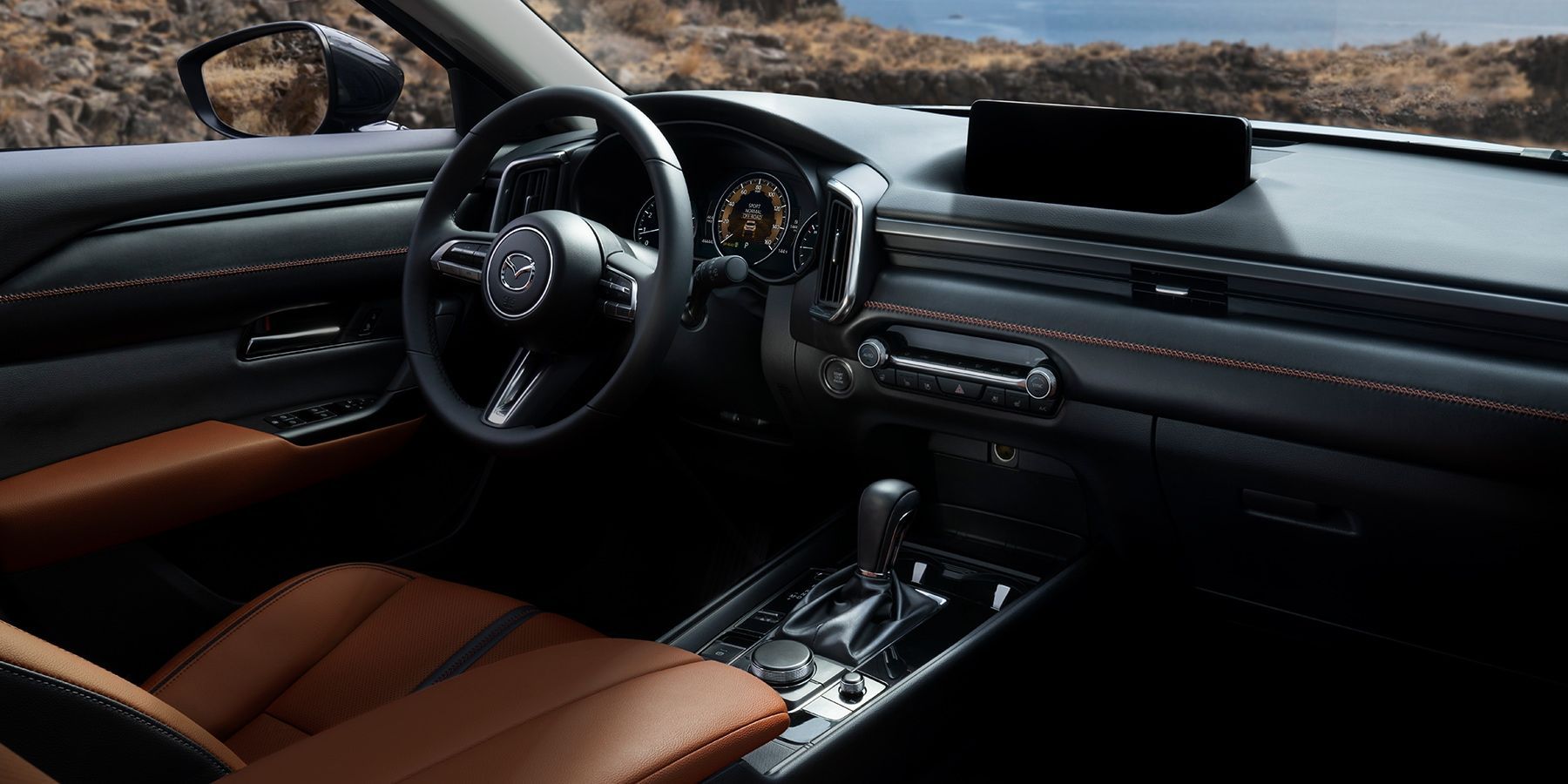 A NATURAL CONNECTION
The Mazda CX-50 offers a comfortable and relaxed seating position, with the driver seat flush to the pedals and wheel. All controls are within easy reach, while the instrument panel is strategically situated in your field of view to ensure you stay focused on what's important - driving!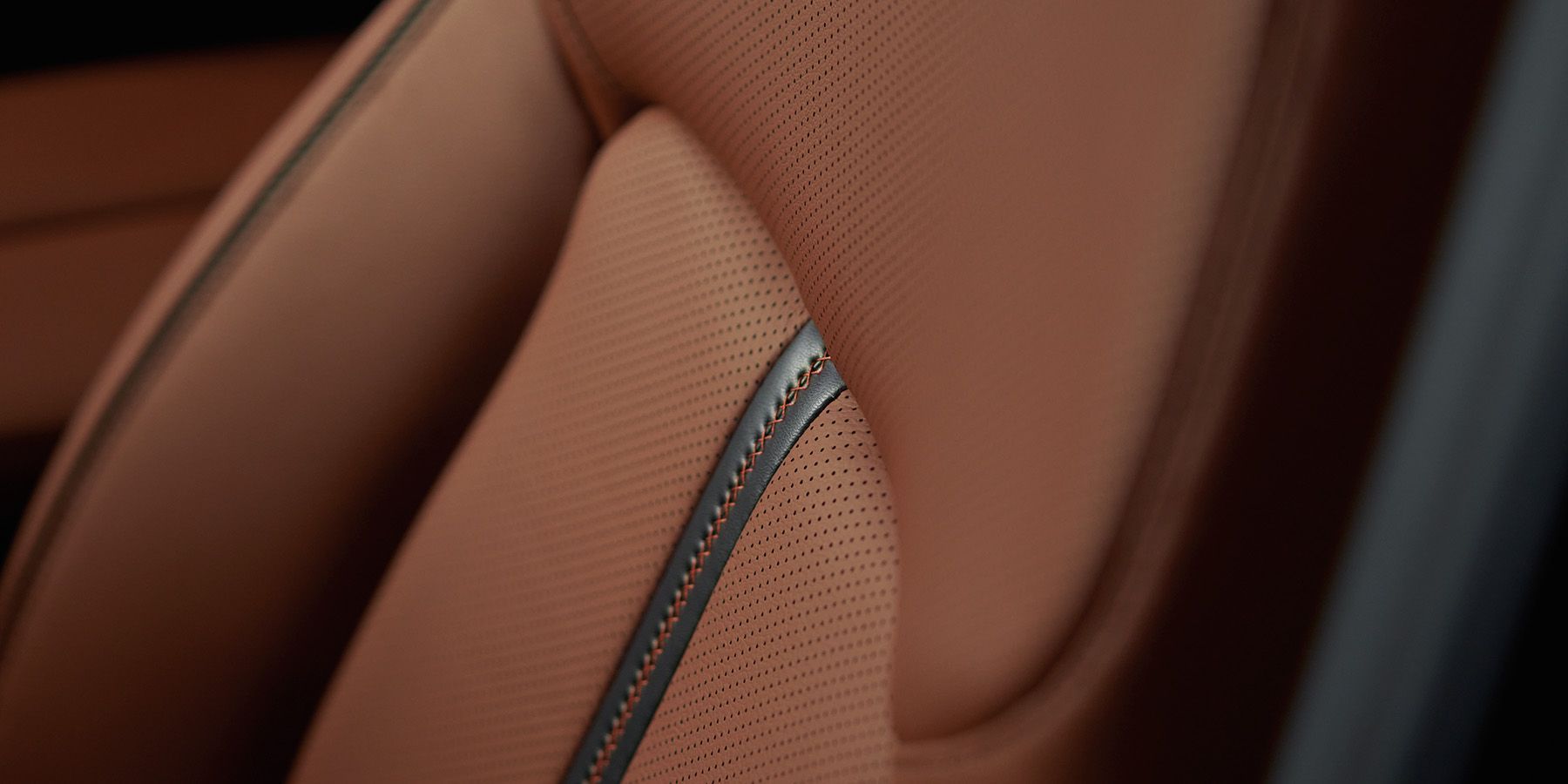 MATERIALS INSPIRED BY THE GREAT OUTDOORS
We scoured the best outdoor gear options to find reliable materials for our trims. For instance, we used climbing backpacks as fabric in our seat designs and hiking boot laces for stitching. Additionally, we incorporated design elements from telephoto lenses to create a textured finish on center consoles that ensure an excellent grip!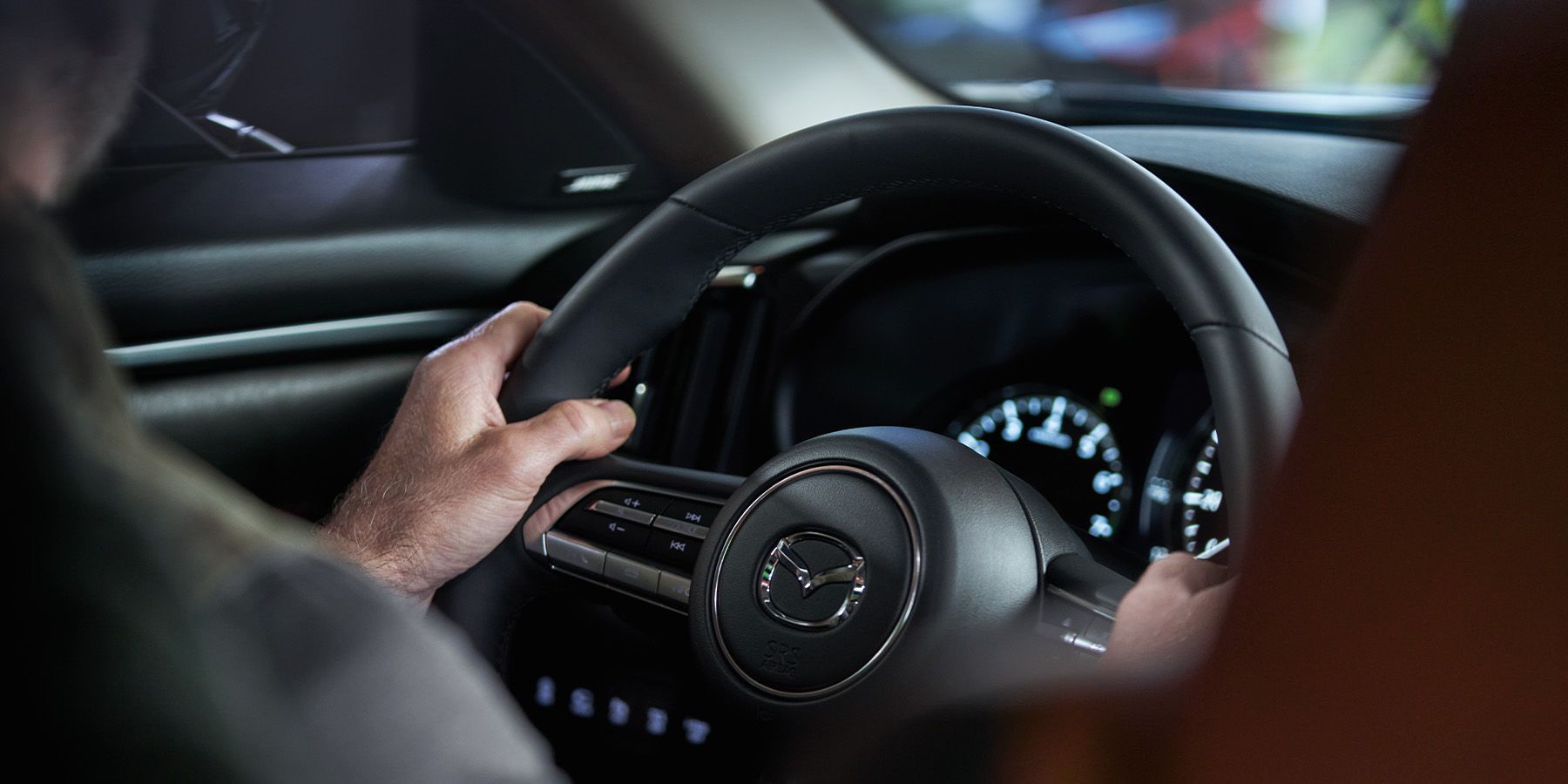 HEATED STEERING WHEEL
The extraordinary ease of the Mazda CX-50 lies in its meticulous attention to detail. Now, traversing icy climes is a breeze with the cleverly crafted heated steering wheel!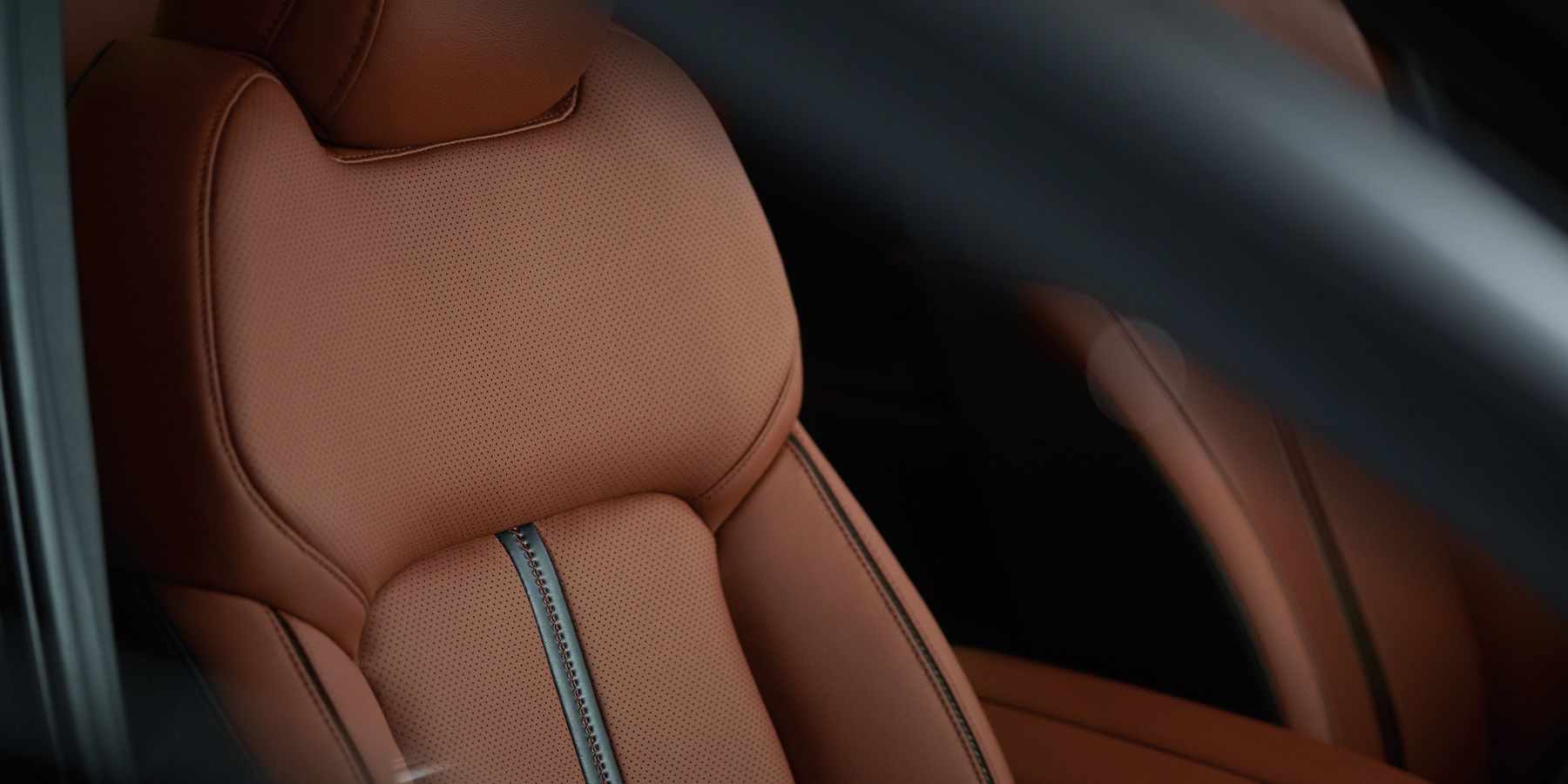 CLIMATE CONTROLLED LEATHER SEATS
Regardless of the season, you can be certain that comfort will never be compromised with the car's available front and rear heated seats along with optional ventilated ones.
2023 MAZDA CX-50 UTILITY
A SEAMLESS CONNECTION TO NATURE
The Mazda CX-50 was crafted with the singular purpose of enhancing your outdoor adventure, guaranteeing you stay comfortable and well-prepared. Specifically designed to efficiently carry all of your camping needs so that you can have a remarkable excursion!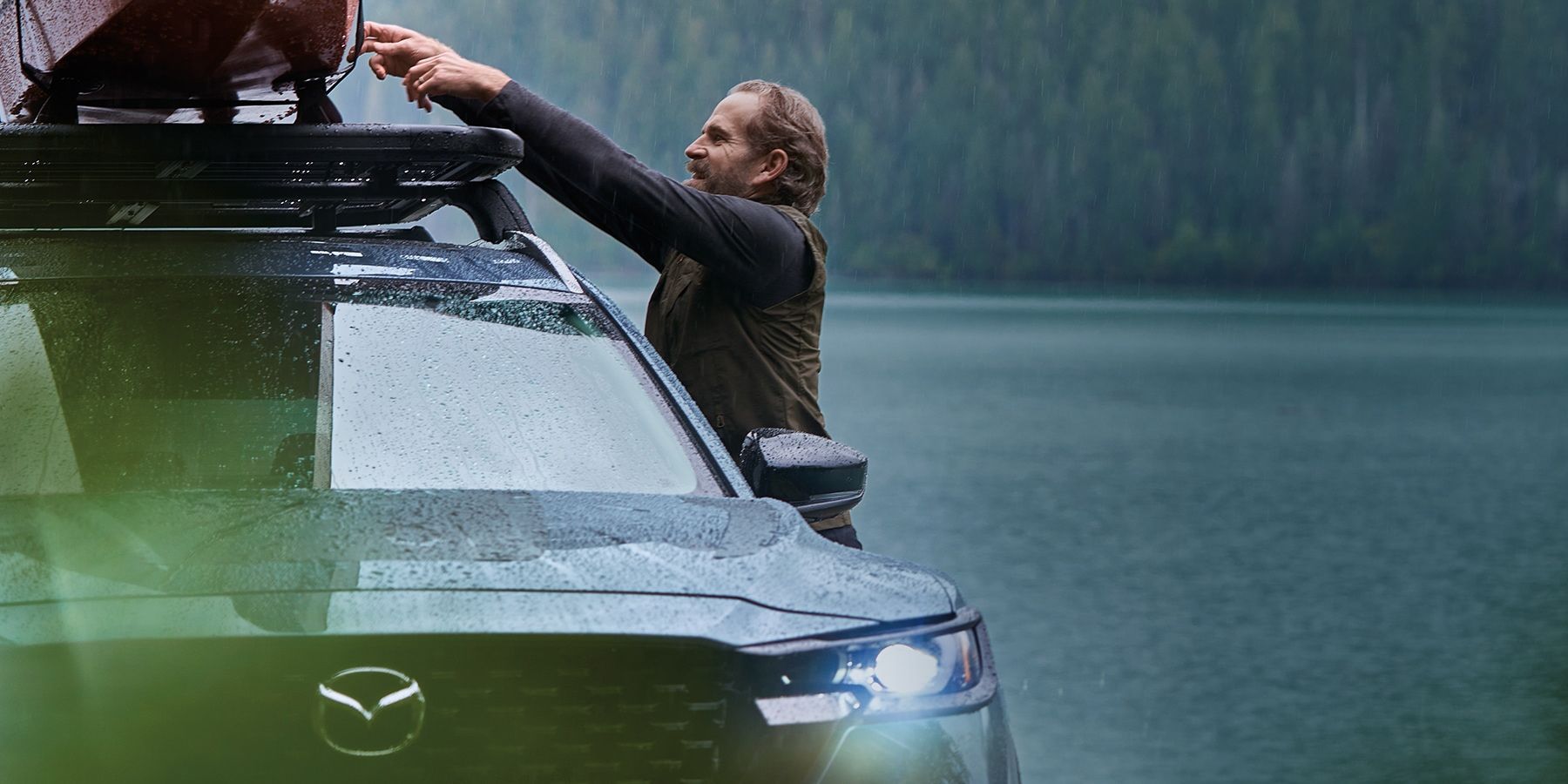 HIGH-STRENGTH ROOF RAILS
The High-Strength Roof Rails are designed to provide you with additional support and store your belongings, such as kayaks, bicycles, and even a pop-up tent. Moreover, their slim design simplifies the process of accessing or entering all of your gear.
REAR POWER LIFTGATE
Unlock the convenient and adjustable power liftgate of your Mazda CX-50 with ease! Program it to reach the desired height for easier access that is always close by - no need to struggle when accessing your cargo.
CARGO SPACE
With its expansive cargo floor, the Mazda CX-50 offers plenty of room to store your larger items like backpacks and coolers with comfort. Plus, its liftgate opens flatly onto the ground so you don't strain yourself when removing hefty packages from the car. To make organizing everything even easier we have a selection of accessories such as Liners & Mats and Cargo Blocks!
2023 MAZDA CX-50 TECHNOLOGY
MAZDA CONNECTED SERVICES
When you take the road less traveled, don't forget about essential amenities such as Roadside Assistance and staying updated on your vehicle's health. By choosing Mazda Connected Services, those are provided free of charge for a period of three years; plus automatic 911 dialing, remote engine start & even more – all accessible through the MyMazda App from your device 24/7 - so don't hit that path without it!
SEAMLESS CONNECTION
Seize every moment with Apple CarPlay™ wireless integration and keep your iPhone connected at all times.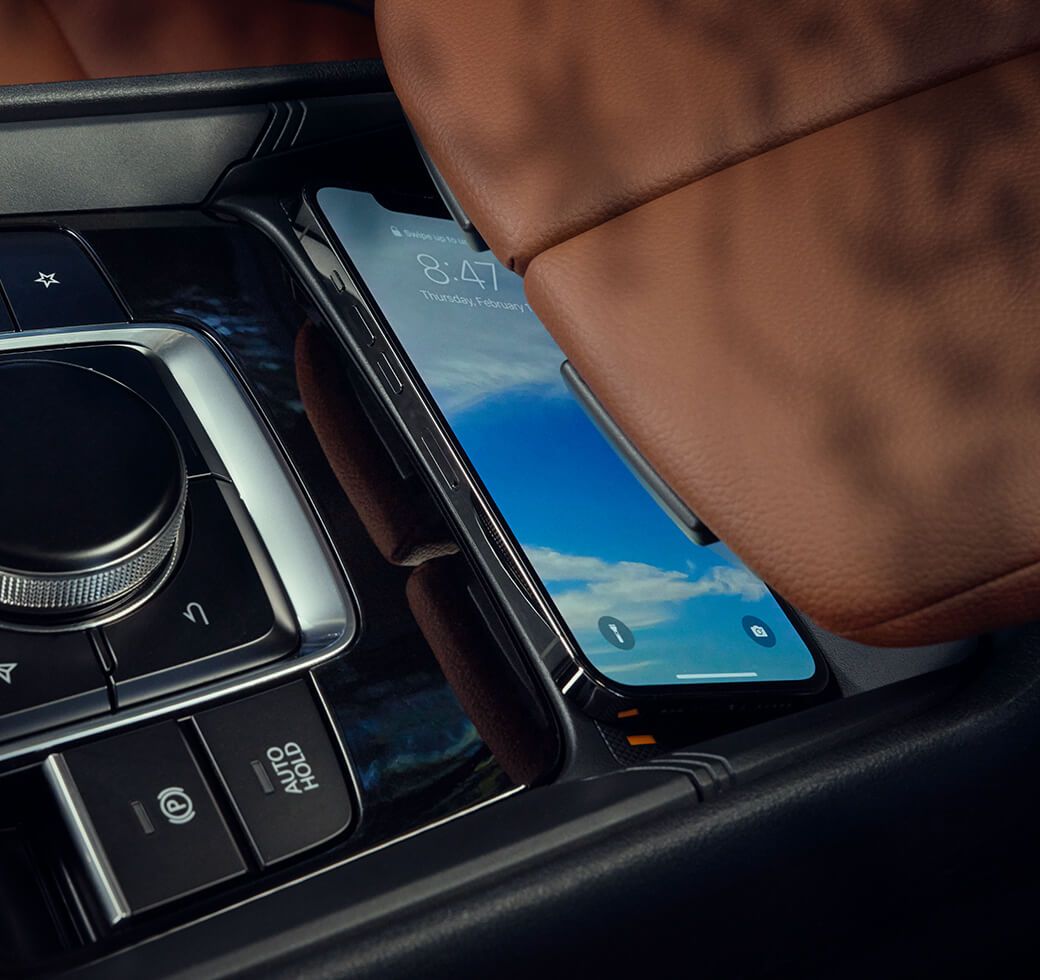 WIRELESS CHARGING PAD
No matter how fast-paced your life may be, don't let a drained device get in the way of taking it all in. Our Wireless Charging Pad is here to keep you powered up and ready for whatever comes your way!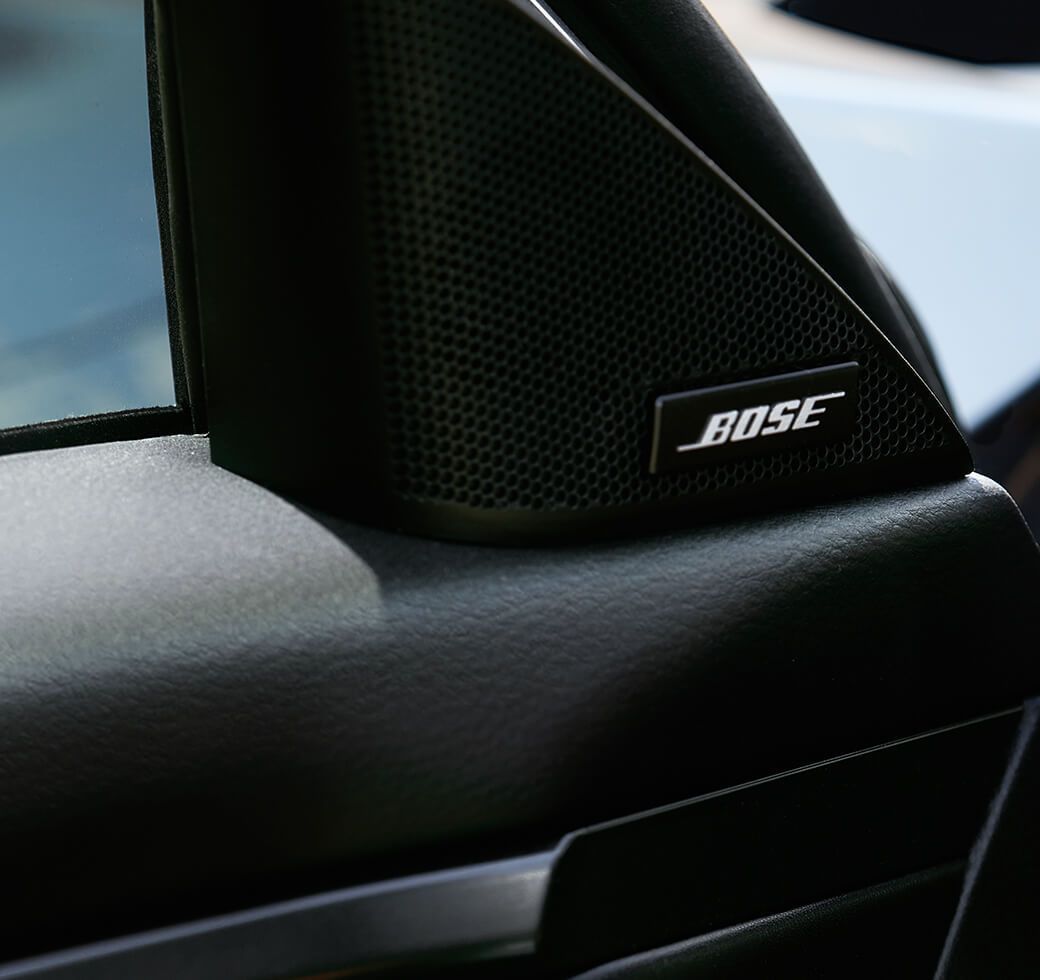 BOSE AUDIO SYSTEM
Thrill yourself with an experience like no other by blending the calming sounds of nature with your favorite tune. Let this vivid combination of music and visuals take you on a journey that will leave a lasting impression!
2023 MAZDA CX-50 SAFETY FEATURES
YOUR JOURNEY MAKES MORE SENSE
Let us guide you on your journey into the wild. Our comprehensive collection of safety features can help to make it easier for you to explore nature and appreciate its beauty whether your trail is gravel or paved. With our advanced technology, now you can experience outdoor adventure without any worry! So don't wait - seize the day with confidence thanks to our reliable protection and get ready for a thrilling excursion!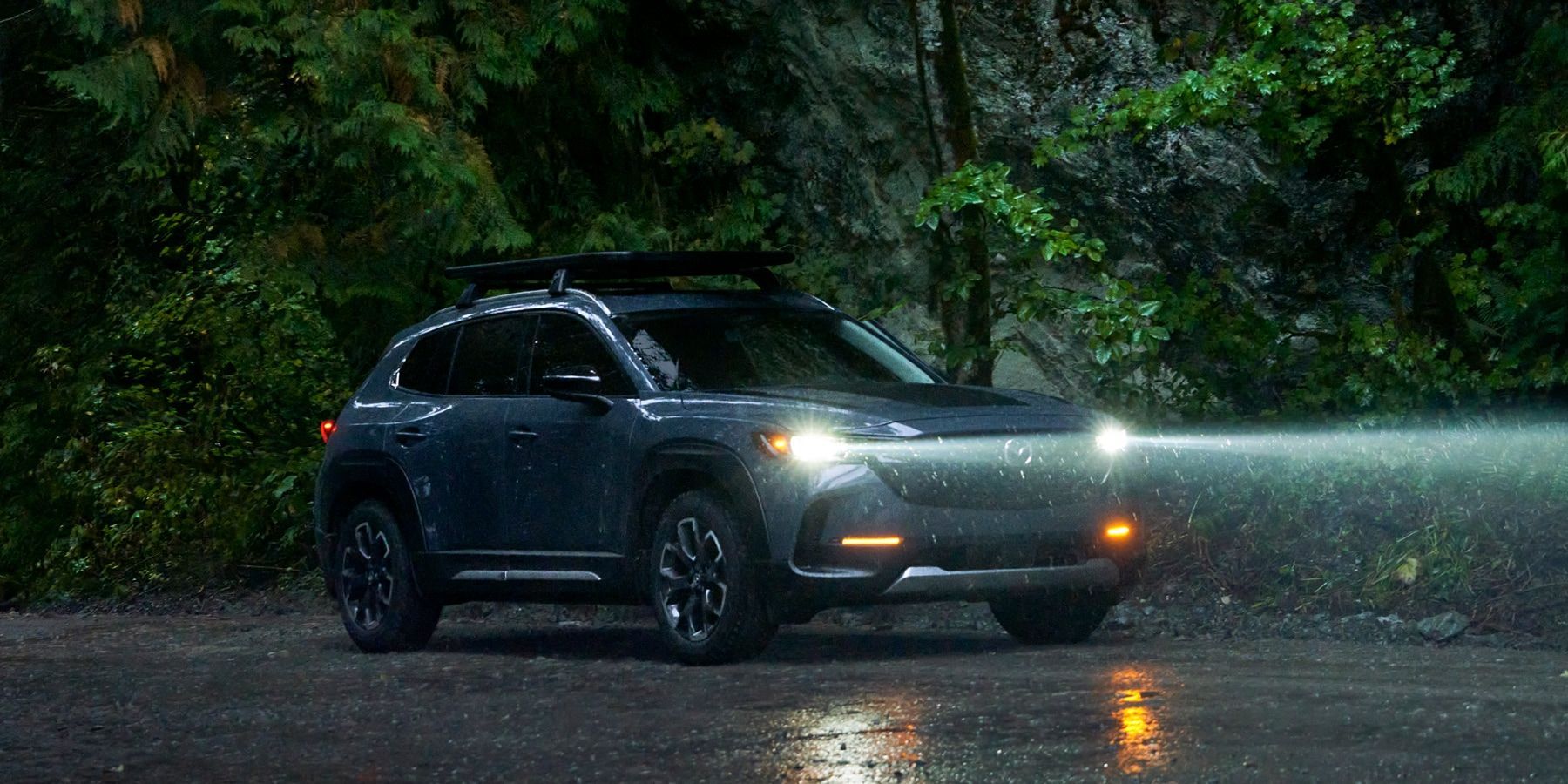 Adaptive Front-Lighting System
Navigate the convoluted country roads with ease and safety thanks to our innovative Adaptive Front Lighting system. As you take each turn, the headlights pivot in tandem for maximum visibility and potential obstacle detection. With this advanced technology illuminating your route, cruise through backroads fearlessly!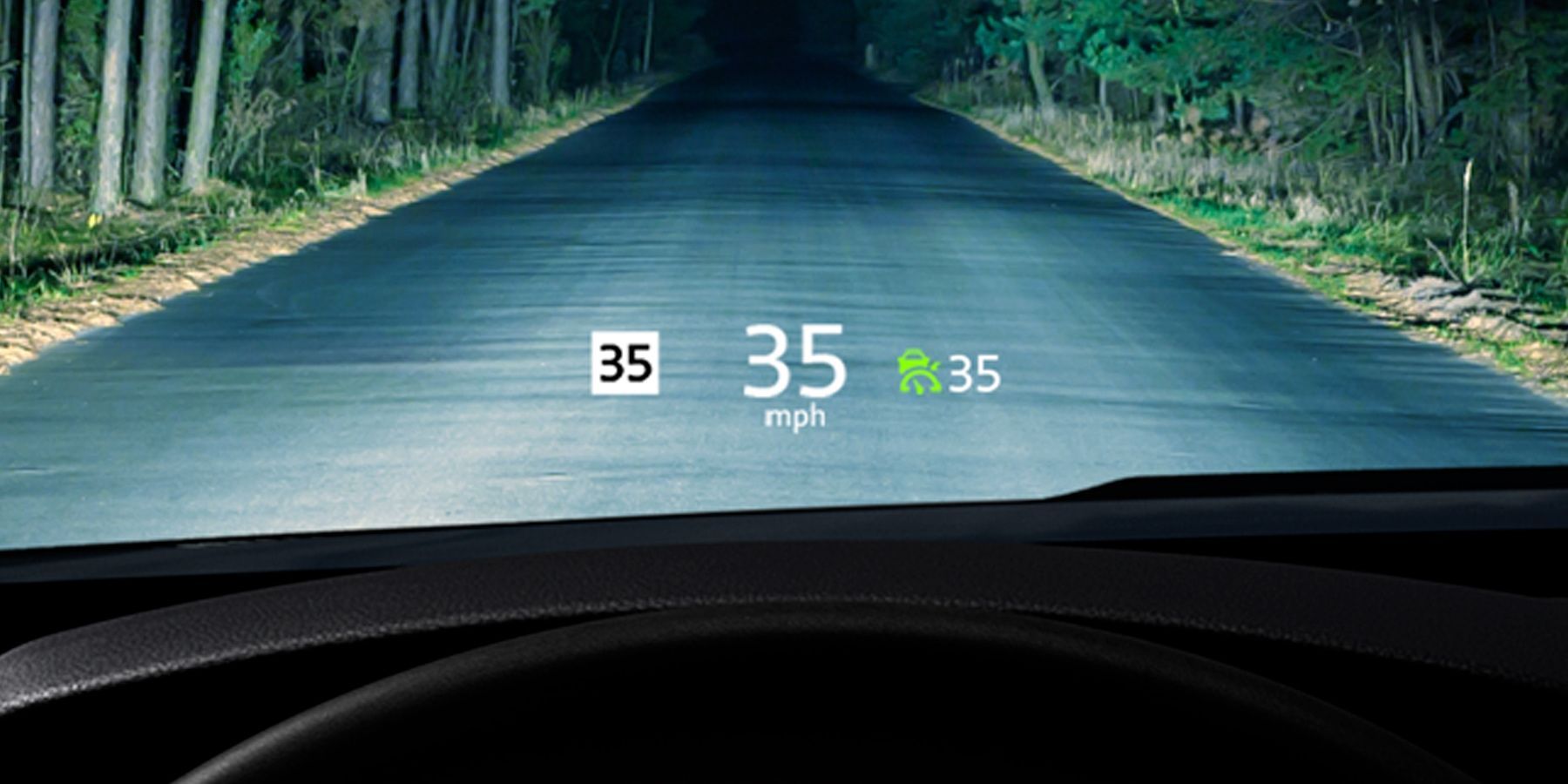 Active Driving Display
Ensure you remain completely focused in any driving situation with the revolutionary Active Driving Display. This feature projects a digital display onto your windshield, providing you with relevant information like speed and following distance - allowing you to stay alert and keep sight of what's ahead at all times!
360º View Monitor
Elevate your driving experience with the 360° View Monitor! With cameras placed around your car, you can be provided an all-encompassing perspective of whatever is in front of you on the MAZDA CONNECT™ touchscreen dashboard. Now, prepare to take pleasure in a heightened sense of awareness as you drive down the street.
i-ACTIVSENSE® SAFETY
Outfitted with i-Activsense® technology, the Mazda CX-50 2.5 Turbo Premium Plus is brimming with safety features guaranteed to keep you safe on your travels including Traffic Jam Assist, front and rear parking sensors and a 360° View Monitor! With these cutting edge precautions in place, life's journey can be enjoyed without any worry or apprehension.
DRIVER ASSIST FEATURES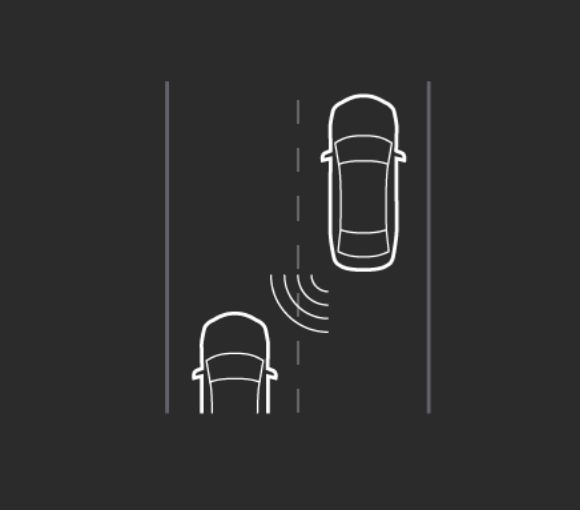 Blind spot Monitoring Assist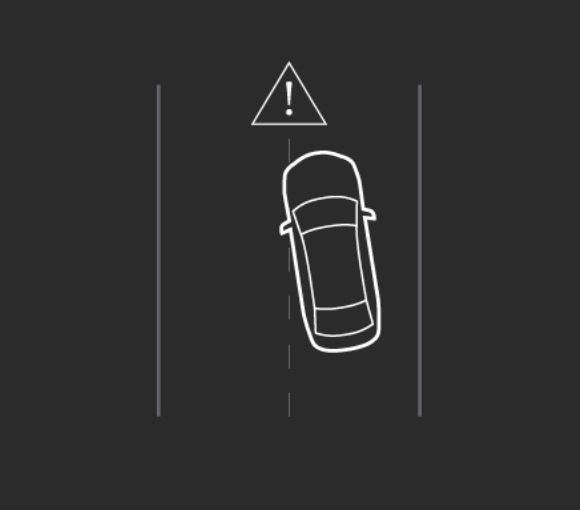 Lane departure Warning System With Lane Keep Assist
Available Traffic Jam Assist
Front Drive Detection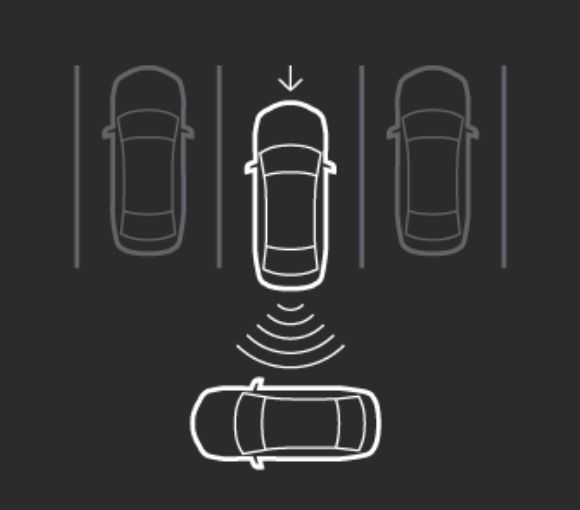 Reverse Drive Detection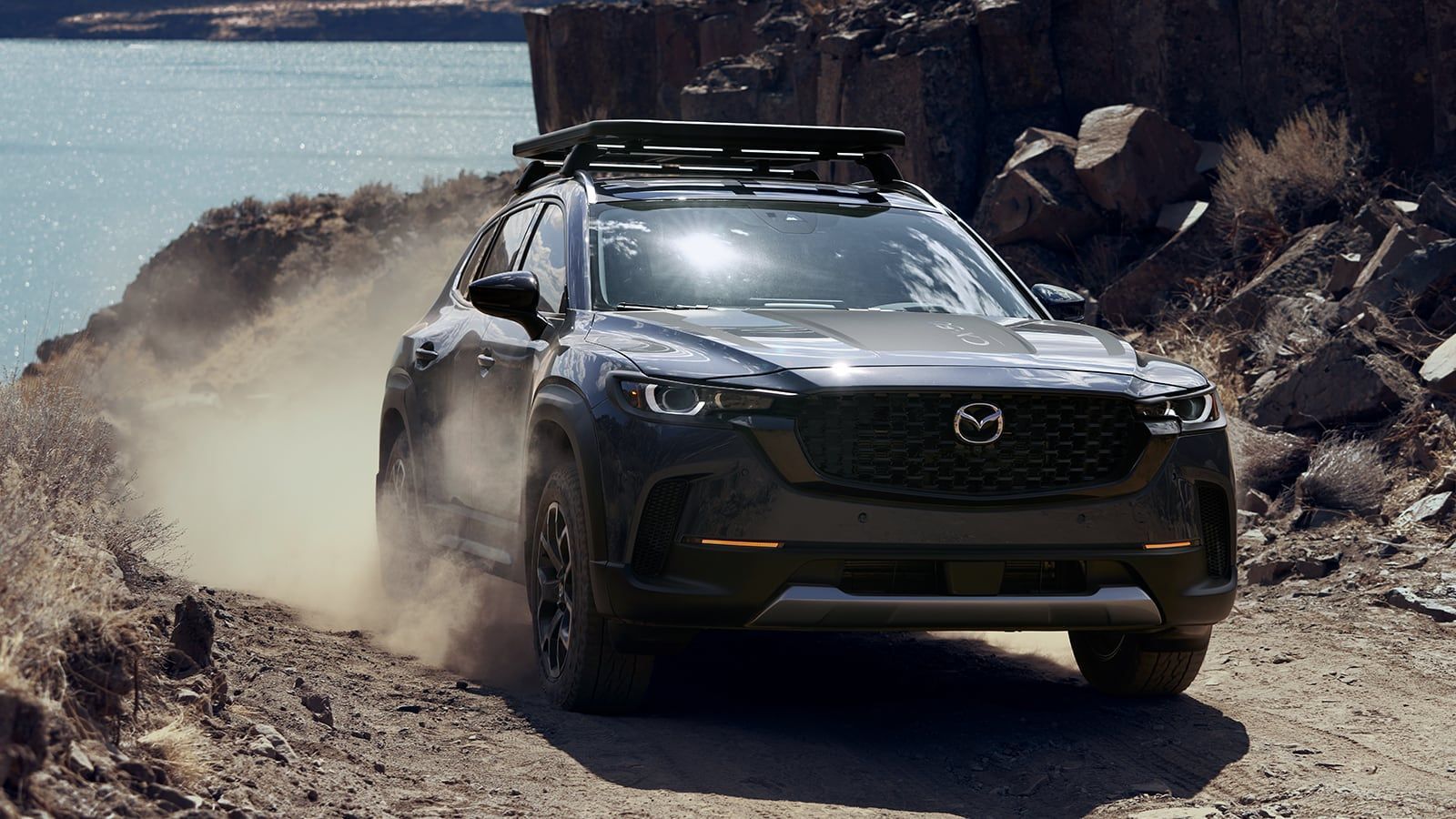 2023 MAZDA CX-50 FAQs
How Many Trims Does The 2023 Mazda CX-50 Have?

The Mazda CX-50 SUV is available in ten trim levels. The 2023 Mazda CX-50 trim levels include the 2.5 S, 2.5 S Select, 2.5 S Preferred, 2.5 S Preferred Plus, 2.5 S Premium, 2.5 S Premium Plus, 2.5 Turbo, 2.5 Turbo Meridian Edition, 2.5 Turbo Premium, and 2.5 Turbo Premium Plus.
What Engine Does The 2023 Mazda CX-50 Use?

The 2023 Mazda CX-50 features a dynamic 2.5L 4-cylinder engine that can be either naturally aspirated or turbocharged according to the trim you choose.
How Many Seats Does The 2023 Mazda CX-50 Have?

The Mazda CX-50 has a roomy 5-seat interior, with the front seats designed for maximum comfort and ergonomics to ensure that both tall drivers and passengers have an ideal fit.
How Fast Is The 2023 Mazda CX-50?

The 2023 Mazda CX-50 is a speed demon; the standard trim can sprint from zero to sixty miles per hour in only 8 seconds, and if you opt for one of its turbo trims, that time drops down even further - 6.2 seconds!
What Is The 2023 Mazda CX-50 Fuel Economy?

The 2023 Mazda CX-50 is incredibly fuel efficient, consuming up to 24 mpg in the city and 30 mpg on highways - meaning you do not have to sacrifice performance for efficiency.
Where Can I Buy The 2023 Mazda CX-50 in Cincinnati, Ohio?

Ready to drive away in the exquisite 2023 Mazda CX-50? Jake Sweeney Mazda Tri-Cunty in Cincinnati, Ohio has what you're looking for! Our friendly sales team is here to take you through all of the features and specs as well as financing options so that your new car journey can begin.