TURBOCHARGED ENGINE AND STANDARD i-ACTIV AWD®
The Mazda CX-30 offers an optional 2.5 Turbo engine that delivers exceptional performance on any terrain. Boasting 250 horsepower and 320 pound-feet of torque, this engine is ideal for a CUV and can motivate you to reach your ambitions.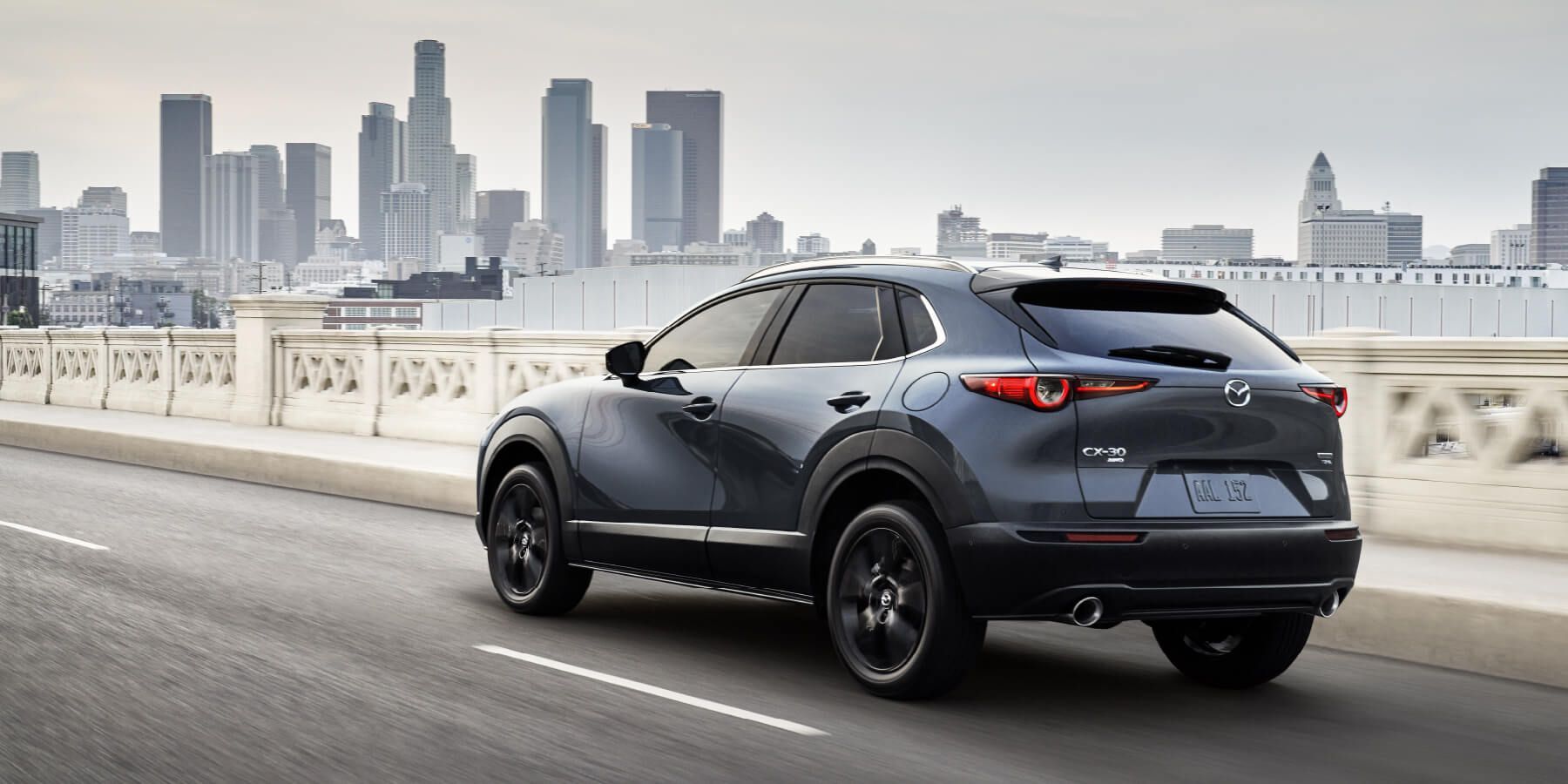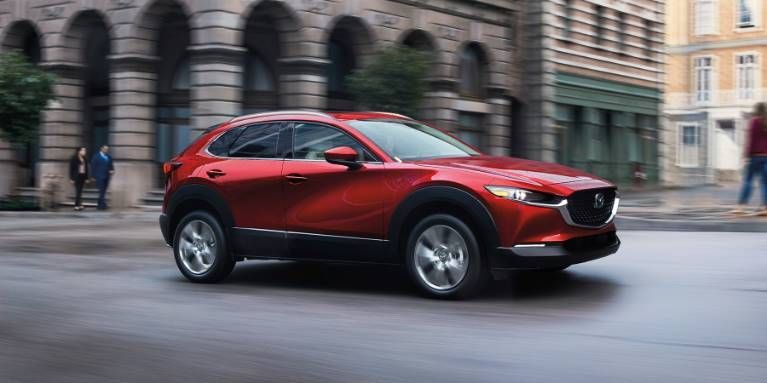 HEIGHTENED PERFORMANCE. WITH GREATER FUEL EFFICIENCY.
The Mazda CX-30 is a small SUV that offers an exciting driving experience. Its 2.5 S models have a 2.5-liter engine that now produces 191 horsepower, which is a significant improvement. Despite its impressive performance, this vehicle has also improved its fuel efficiency so it can achieve up to 26 city/33 highway miles per gallon. This makes it great for all kinds of trips.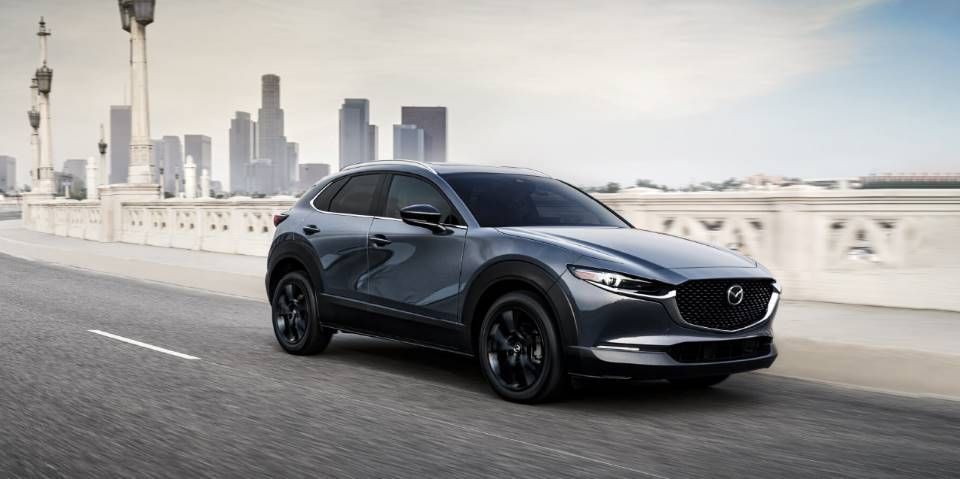 GO SWIFTLY
The Mazda CX-30 comes equipped with G-Vectoring Control Plus, which works alongside i-ACTIV AWD® to enhance the driving experience. This feature makes adjustments to power delivery and weight distribution resulting in a smooth and enjoyable ride, setting the CX-30 apart from other compact crossovers.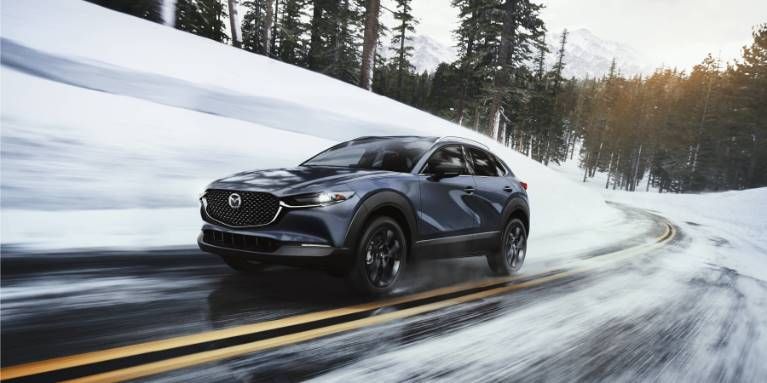 GO CONFIDENTLY
Mazda vehicles have the i-Activ AWD® system as a standard feature. This system distributes the torque to the tires that have the best grip, ensuring superior traction on various types of roads. Moreover, the system continuously evaluates data on vehicle dynamics to enhance performance after each drive
2023 MAZDA CX-30 EXTERIOR DESIGN
GO IN STYLE
Our Kodo design aims to create a sense of movement even when the car is not in motion. For the Mazda CX-30, we added an elegant S-curve to the doors to highlight the interplay between light and shadow. This feature continuously changes and reflects the light, turning it into a piece of art that may inspire you while driving.
2023 MAZDA CX-30 INTERIOR DESIGN
SAVOR EVERY MOMENT
The Mazda CX-30's interior is stylish and aims to provide a comfortable and invigorating environment while you're behind the wheel. It utilizes top-notch materials such as perforated leather and high-quality stitching, and it comes in a range of sleek color choices. This refined interior helps you concentrate on driving and prepare for any potential obstacles.

A PERFECT FIT
The cabin of the Mazda CX-30 has displays and gauges placed strategically to create a surround effect. Additionally, the vehicle has a cargo space of 20.2 cubic feet, which can be extended to 45.2 cubic feet by folding down the rear seats. These features make the Mazda CX-30 the perfect vehicle for unpredictable future adventures.
2023 MAZDA CX-30 TECHNOLOGY
MAZDA CONNECTED SERVICES
You can use the MyMazda App with Mazda Connected Services for free up to three years. This app allows you to start your car remotely, access in-car Wi-Fi, check vehicle status reports, and use emergency services including automatic 911 dialing and roadside assistance. It helps you stay connected and safe while you're driving.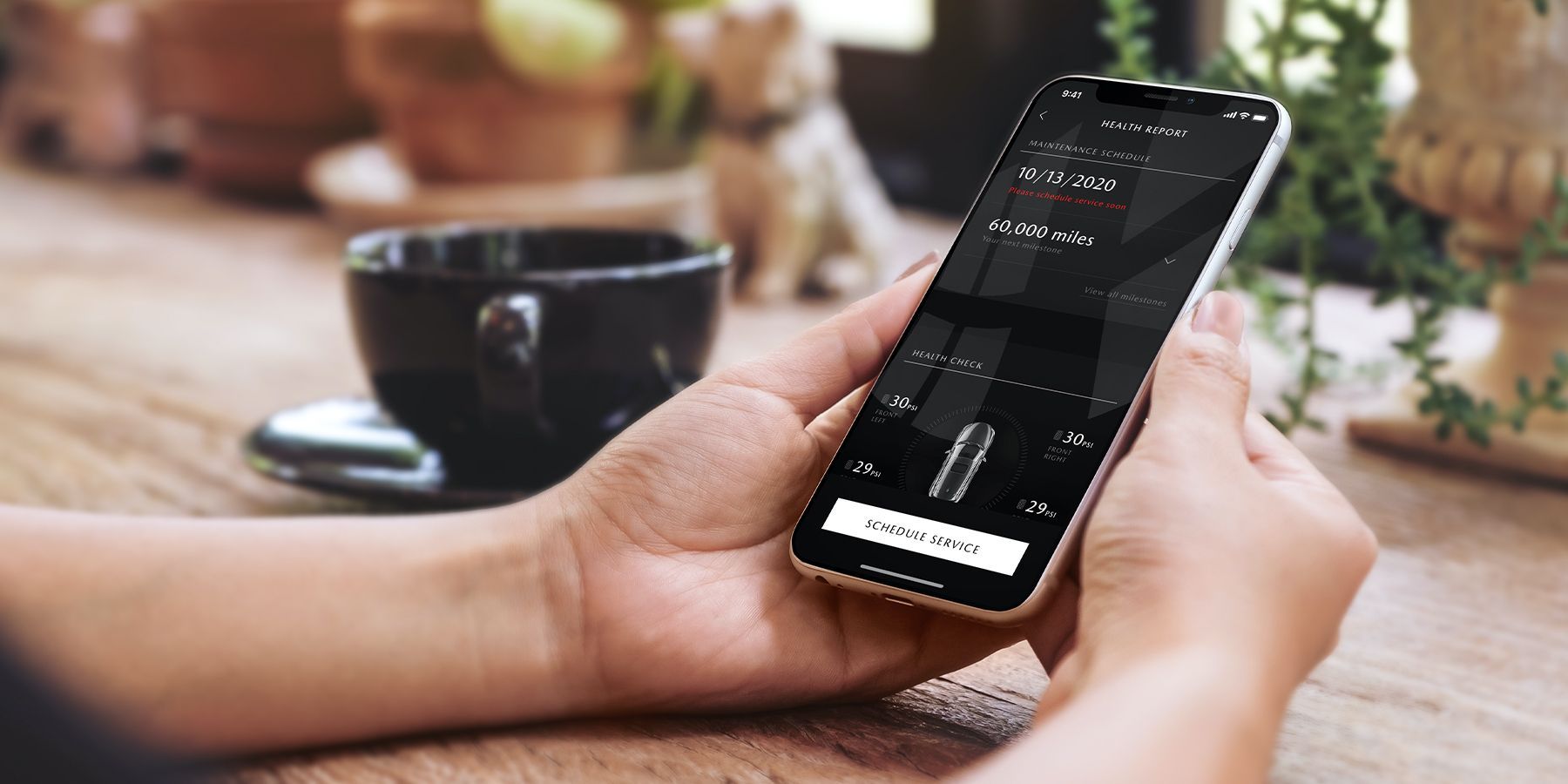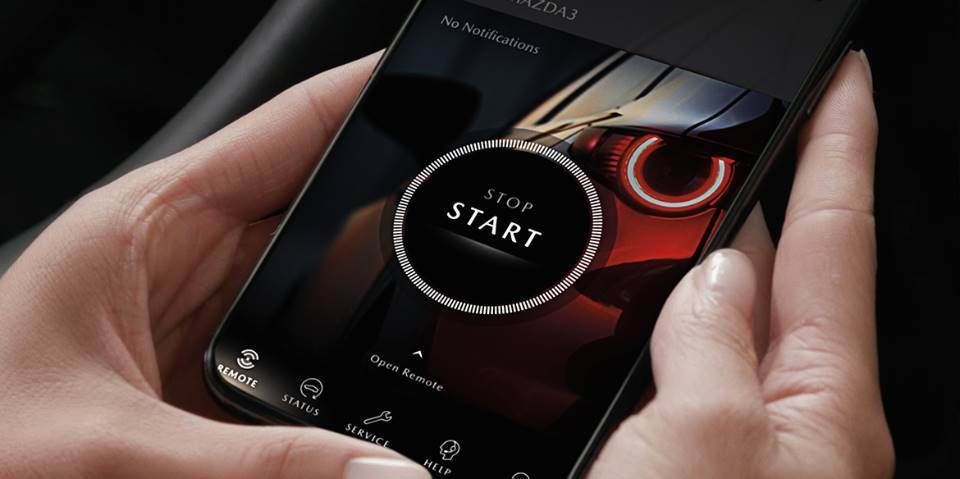 Remote Engine Start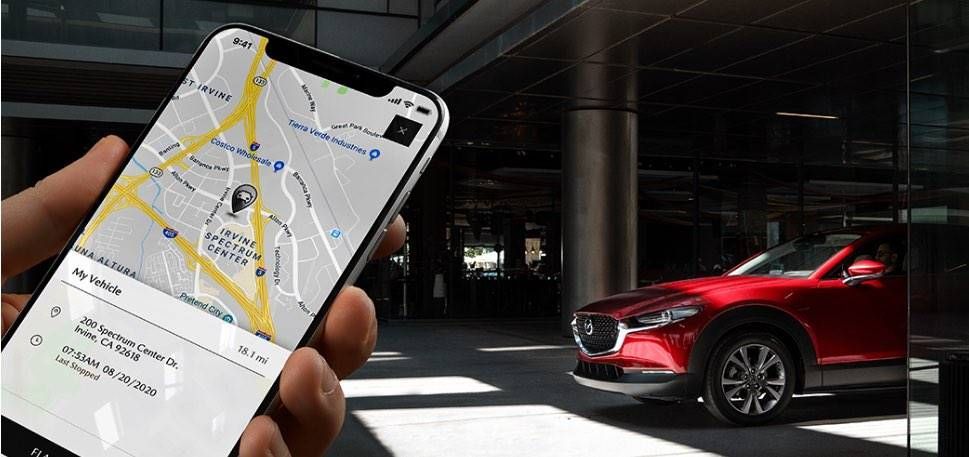 Vehicle Finder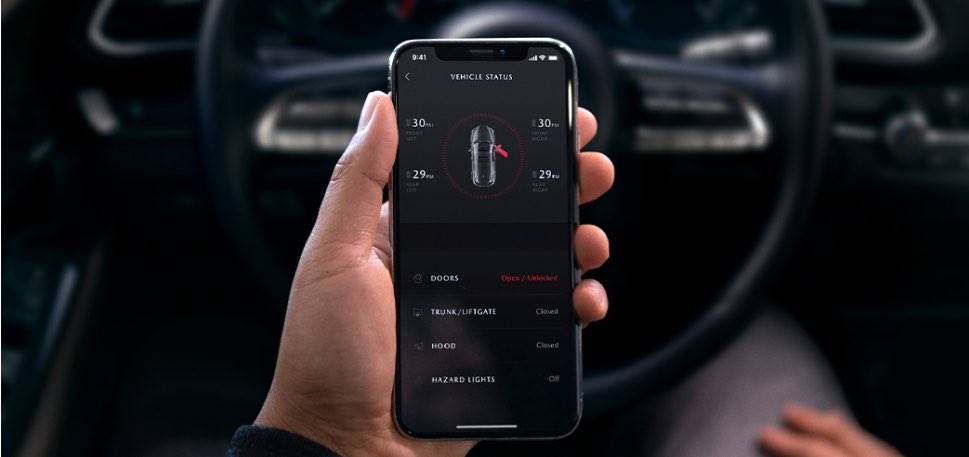 Vehicle Health And Status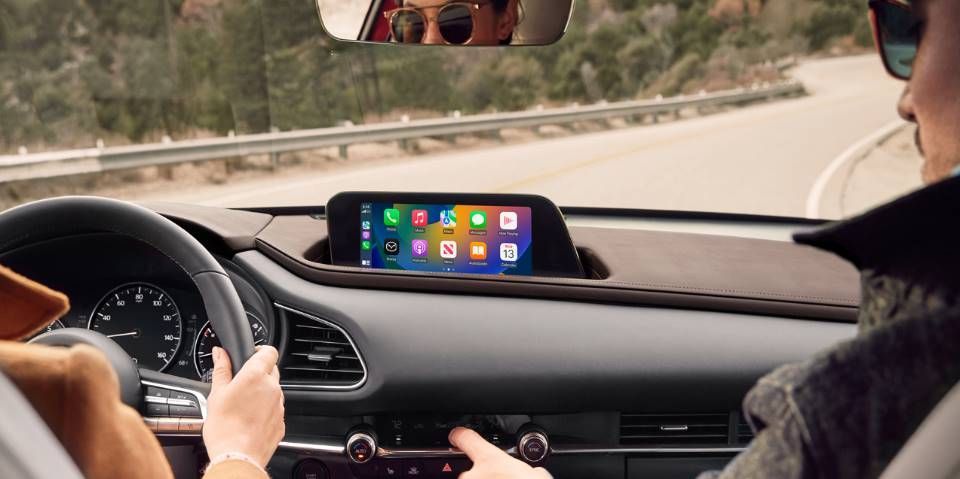 YOUR WORLD. AT YOUR FINGERTIPS.
To access features such as maps, playlists, contacts, and compatible apps, connect your iPhone to Mazda Connect Infotainment System and use Siri. The system has an 8.8-inch display which you can control using the multifunctional commander or voice prompts. You can also enjoy a seamless experience with Apple CarPlay.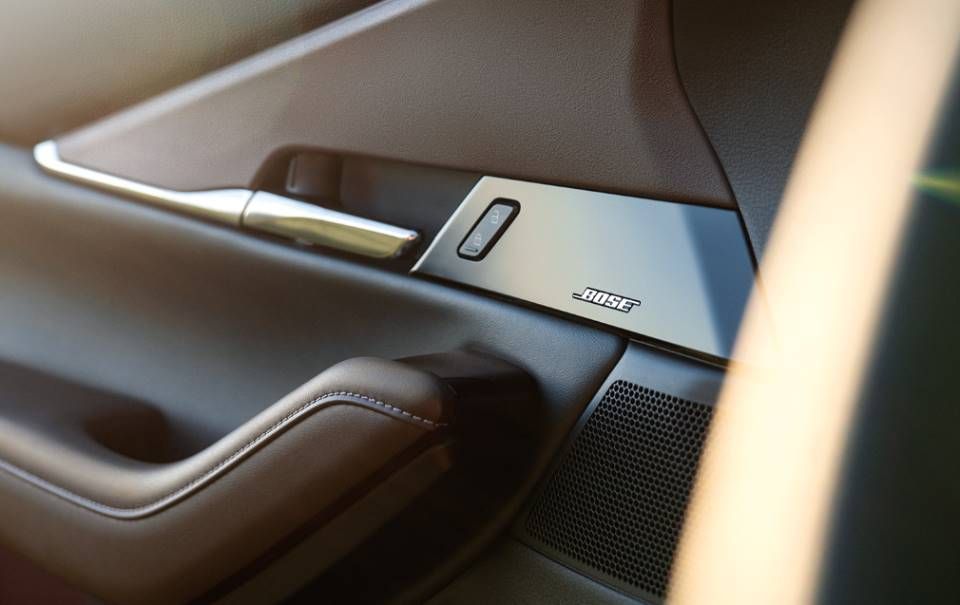 BOSE® AUDIO
The Mazda CX-30 comes with a customized 12-speaker Bose® sound system that improves your driving experience, especially when listening to your favorite music genre. It delivers the artist's intended sound quality, making it an excellent addition to your ride at any time.
2023 MAZDA CX-30 SAFETY
We are excited to inform you that the Mazda CX-30 has been awarded the 5-star overall safety rating from the National Highway Traffic Safety Administration and the 2023 IIHS TOP SAFETY PICK award. This recognition assures that the Mazda CX-30 is a dependable and secure vehicle, a perfect option for those who prioritize safety while driving.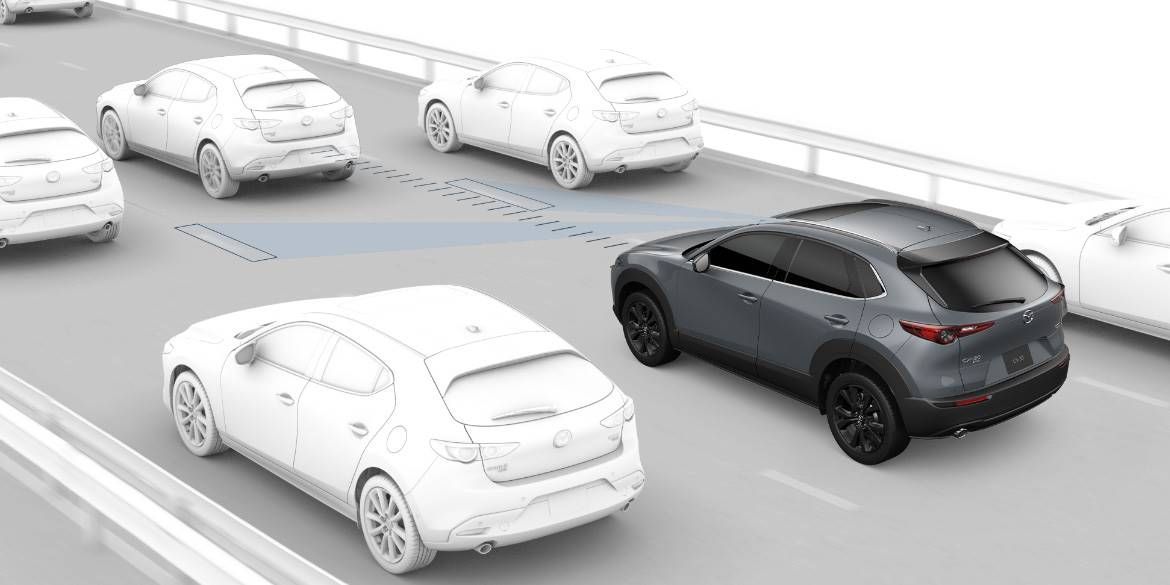 Traffic Jam Assist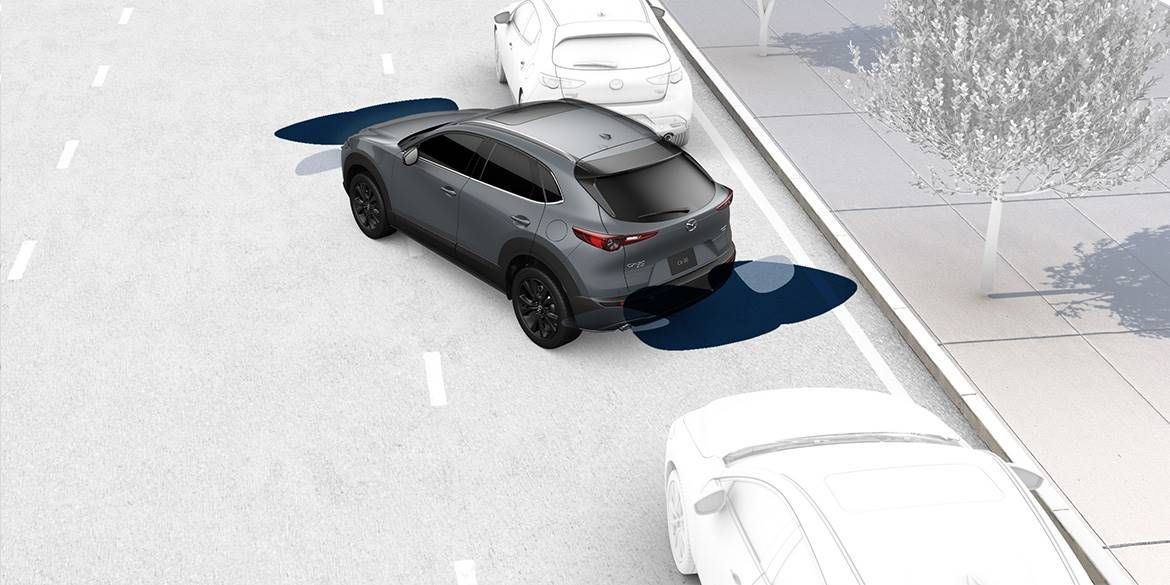 Front And Rear Parking Sensors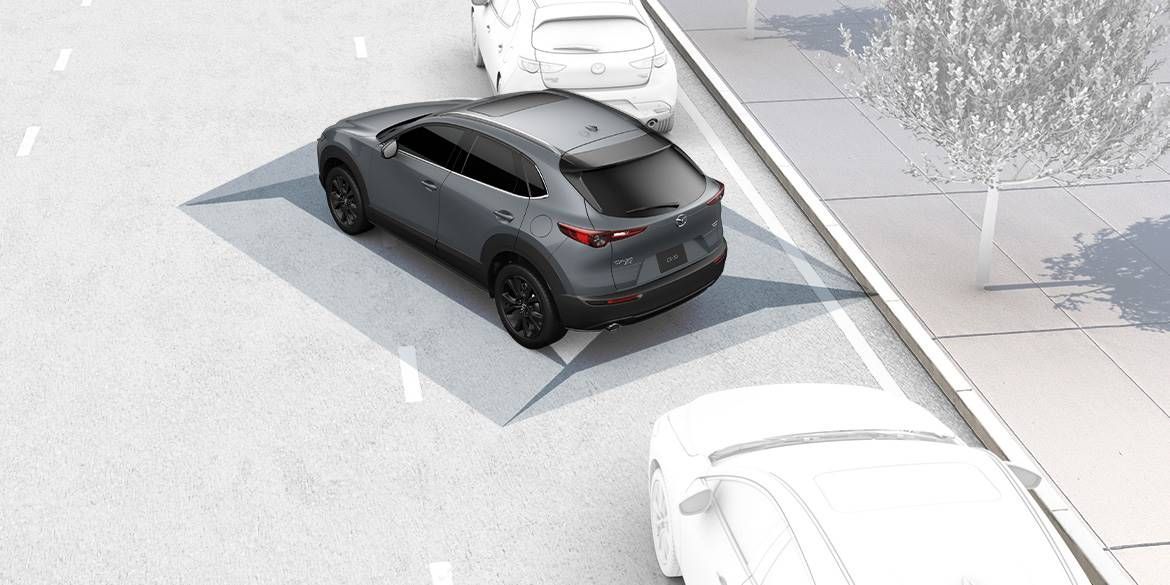 360 degrees view Monitor
2023 MAZDA CX-30 TRIMS
The Mazda CX-30 has various trim options that cater to your individual driving preferences and needs.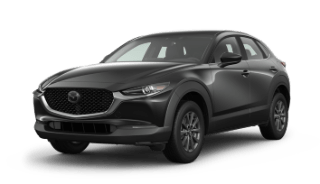 2023 MAZDA CX-30 2.5 S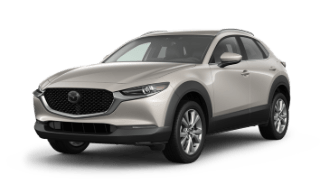 2023 MAZDA CX-30 2.5 S SELECT
2023 MAZDA CX-30 2.5 S PREFERRED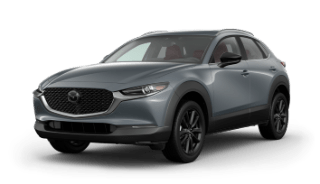 2023 MAZDA CX-30 2.5 S CARBON EDITION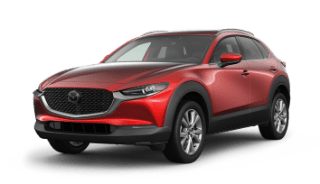 2023 MAZDA CX-30 2.5 S PREMIUM
2023 MAZDA CX-30 2.5 S TURBO PREMIUM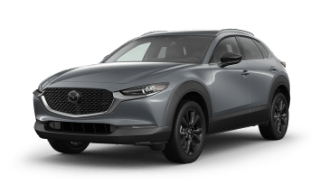 2023 MAZDA CX-30 2.5 S TURBO PREMIUM PLUS
GRAB THE NEW 2023 MAZDA CX-30 IN CINCINNATI, OHIO AT JAKE SWEENEY MAZDA TRI-COUNTY
Are you looking for a modern and elegant CUV? If yes, then you might want to consider the 2023 Mazda CX-30! This vehicle is a perfect blend of convenience and luxury. You can check out our Mazda dealership in Cincinnati, Ohio for more information about this car. Our sales team can provide you with all the details about the 2023 Mazda CX-30, including pricing, trims, features, and financing. You can visit or contact our Mazda dealership in Cincinnati, Ohio to explore this car and other new and pre-owned Mazda models.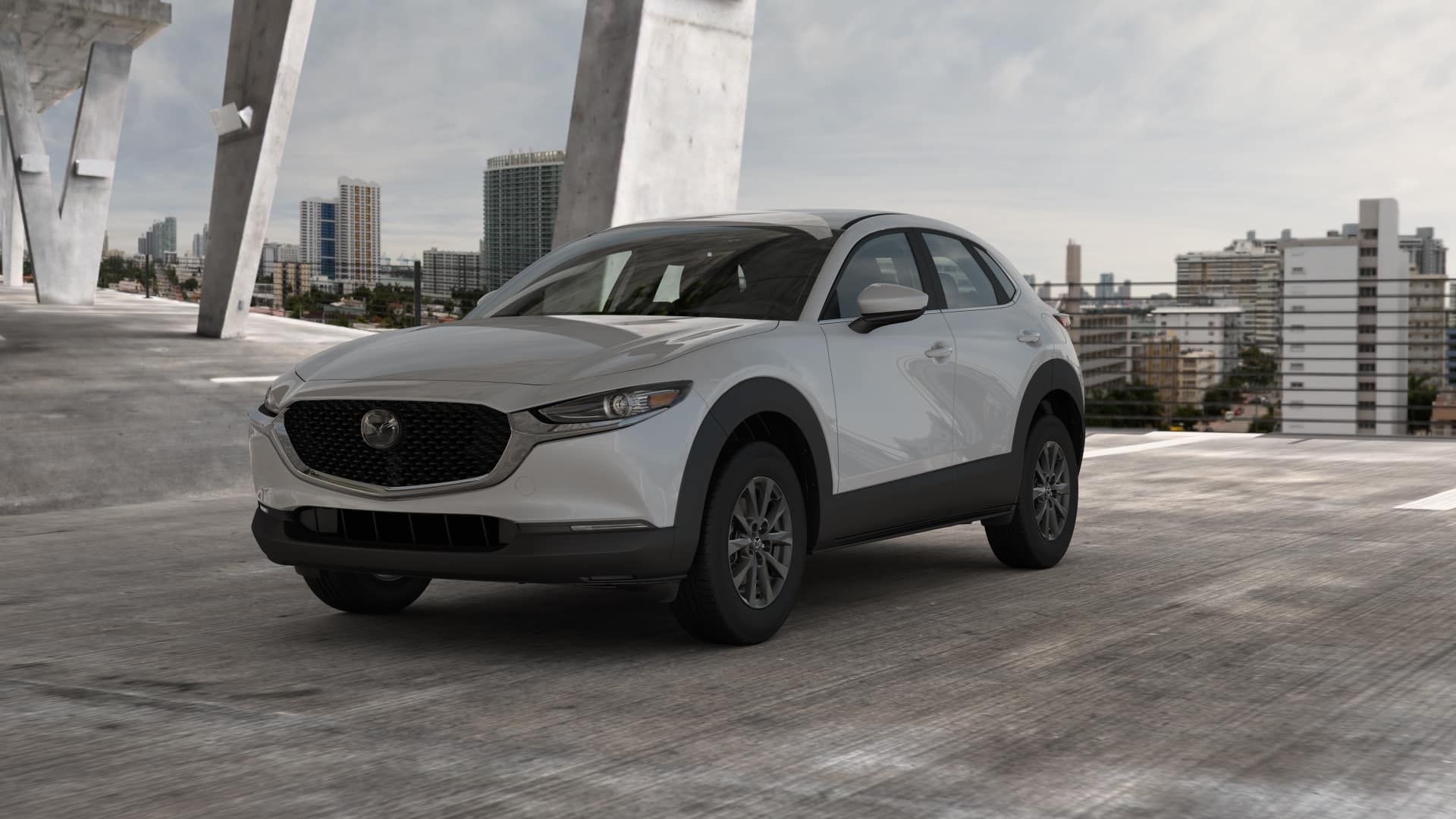 2023 MAZDA CX-30 Q&A
Is the Mazda CX-30 worth your money?

The 2023 CX-30 SUV is a great choice because of its impressive quality and value. Its interior is luxurious and offers comfortable front and rear seats along with standard safety features. Additionally, it has a large cargo area and all of this comes at a competitive price.
How many seats does the 2023 Mazda CX-30 have?

The 2023 Mazda CX-30 has five seats that are designed for maximum comfort, ensuring a pleasant driving experience for everyone in the car. The car's spacious cabin also adds to the overall driving experience.
What engine does the 2023 Mazda CX-30 use?

The Mazda CX-30 has a 2.5 Turbo engine option that provides excellent performance for a Compact Utility Vehicle. It can generate up to 250 horsepower and 320 pound-feet of torque, ensuring a dependable and comfortable driving experience for all your journeys, regardless of the destination.
What is the 2023 Mazda CX-30 Cargo space?

The CX-30 features strategically placed displays and gauges in its cabin, providing a more immersive driving experience. Additionally, the car boasts a spacious storage capacity of 20.2 cubic feet, which can be expanded to 45.2 cubic feet by folding down the rear seats. This flexibility is especially valuable since future needs are unpredictable.
Where can I buy or lease the new 2023 Mazda CX-30 in Cincinnati, Ohio?

If you want to take advantage of our great lease deals for the Mazda CX-30, come see us at Jake Sweeney Mazda Tri-County in Cincinnati, Ohio. You can contact us or visit in person to browse our selection of new and used Mazda cars available in Cincinnati.